Nicky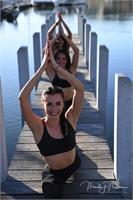 Yoga is the calm amongst the madness that is Nicky's life. Nicky's mind is constantly moving, but when she steps into the yoga studio, either to practice or to teach, the outside world disappears.
Nicky has been dancing for almost 15 years and always loved the feeling of moving with control and purpose. She fell in love with yoga the moment she stepped into her first vinyasa class four years ago. And it was the same with Core+ Hot Pilates. She's gained so much strength from pilates, which has enriched her yoga practice immensely. When the opportunity arose to become a Core+ Hot Pilates teacher Nicky jumped at it immediately.
Nicky instructs the following:
These classes are seriously upbeat and incorporate traditional mat pilates exercises, plus a revolutionary mix of high-intensity interval training (HIIT) and weight work to strengthen your core and tone your body. Each class will follow a similar sequence but the order and focus will vary from class to class. Suitable for all fitness levels, these classes are high-energy and great fun thanks to a playlist of inspiring beats. Plus, you'll burn calories and detoxify your body as each class is performed in a thermo-controlled room at 32-34°C with 40% humidity. It will be one of the best workouts you've had and will leave you feeling energised and inspired!