Nicky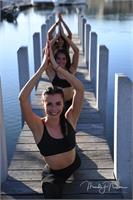 Yoga is the calm amongst the madness that is Nicky's life. Nicky's mind is constantly moving, but when she steps into the yoga studio, either to practice or to teach, the outside world disappears.
Nicky has been dancing for almost 15 years and always loved the feeling of moving with control and purpose. She fell in love with yoga the moment she stepped into her first vinyasa class four years ago. And it was the same with Core+ Hot Pilates. She's gained so much strength from pilates, which has enriched her yoga practice immensely. When the opportunity arose to become a Core+ Hot Pilates teacher Nicky jumped at it immediately.
Nicky is currently not instructing any classes.