Tarra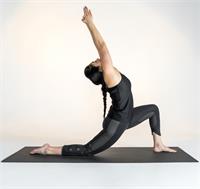 Tarra's initial thought about yoga was "how can I possibly do yoga when I can't even touch my toes?" A thought which now makes her laugh.
Her love for yoga truly began in 2014 when she started to practice regular Bikram yoga classes. It was a great way to build a sweat, exercise, and stretch. She later started to discover different elements of herself and learnt to expand both mentally and physically.
From there she wanted to learn more and started to practice other styles of yoga including Vinyasa yoga - this gave her a chance to build strength and create flexibility in the mind and body. After consistent practice and dedication she decided to complete her 200hr teacher-training course, which has been one of the best decisions, she has ever made.
Tarra instructs the following:
Flow yoga is a dynamic form of asana movement synchronising breath with movement, evolved from the original teachings of Hatha Vinyasa Yoga. It awakens strength, energy, cardiovascular activity and flexibility in a fun atmosphere, whilst sweating it out in a nice 32-34°C. The classes start dynamically with fluid movements and breathing, slowing towards the end into longer posture holds, allowing for a deep release. This fun and addictive class is also blended with a modern day philosophy of how to live life authentically and consciously, both on and off the mat, cultivating a healthy body, quiet mind, open heart and vibrant spirit.