Astrid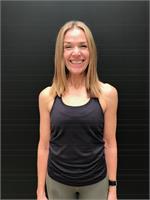 Astrid found yoga in 2001 and has completed over 400hrs of yoga teacher training since including Yin with international teacher Jo Phee. Her main love is ashtanga yoga. It's the weaving of the breath throughout the practice that got her hooked on this style and the belief that the body and breath are intimately connected with the mind. By controlling the breath and holding the body in steady poses creates harmony. Yoga encourages a holistic view of the body and promotes a positive self-awareness. Yoga gives Astrid the means to stay focused and calm, strong and healthy.
Astrid believes the power of positive thought can bring balance to busy modern lives - her goal is to help students find that same balance.
Astrid instructs the following:
Yoga Tune Up® classes focus on eradicating pain, improving posture and enhancing performance by locating your body's blind spots that are catalysts for injury and discomfort. We use YTU® therapy balls and myofascial release techniques to roll out and release muscles and the surrounding connective tissue in an effort to calm the nervous system, reduce tension, eliminate pain, increase mobility, and bring balance back to the body.

Classes are concentrated to delve deep into specific areas of the body such as core, hips, back, neck and shoulders. These classes are ideal for anyone who wants to rejuvenate their body from stress and pain. Whether you sit at a desk or are an athlete experiencing fatigue, you're sure to feel the tune-up difference! The best thing about YTU® is the ability to educate yourself on how to heal your body and prevent injury.




Flow yoga is a dynamic form of asana movement synchronising breath with movement, evolved from the original teachings of Hatha Vinyasa Yoga. It awakens strength, energy, cardiovascular activity and flexibility in a fun atmosphere, whilst sweating it out in a nice 32-34°C. The classes start dynamically with fluid movements and breathing, slowing towards the end into longer posture holds, allowing for a deep release. This fun and addictive class is also blended with a modern day philosophy of how to live life authentically and consciously, both on and off the mat, cultivating a healthy body, quiet mind, open heart and vibrant spirit.