Lee-Anne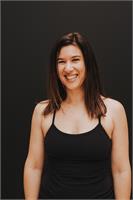 Lee-Anne is mum of three, a naturopath with over 15 years clinical experience, and her yoga practice dates back as far. Certified in Yin Yoga, Rainbow Family and Kids Yoga (Vinyasa), Core + Hot Pilates, Yoga Tune Up®, The Roll Model Method®, PT, BSc (Nat), Thai Yoga Massage, and a broad range of manual therapies, Lee has a solid understanding of anatomy, physiology, human movement, and pranayama.
She teaches from a functional perspective, based in anatomy. You'll embody the muscle, fascia or function of each pose in Lee's class. Lee also recognises that each individual is different and can help students find shapes that suit their individual bone structure, injuries/tensions, and flexibility.
When she's not working she's at the park or beach with three kids, playing acro yoga or enjoying the gymnastics of crossfit.
You can find Lee at www.facebook.com/synergiahealth and www.facebook.com/fasciaist.
Lee-Anne instructs the following:
Yin Yoga is a more inward and quieter style conducted in an unheated room. It is a perfect complement to the dynamic and muscular (Yang) styles of yoga that emphasise internal heat, progressive movement and the contracting of our muscles. Yin is slower in nature (not to be confused with easy) and focuses on deep stretching and compressing that may assist to correct postural imbalances created by tight fascia (connective tissues). Yin is a stepping-stone to meditation with longer posture holds from 2-10 minutes with the use of props to avoid muscle fatigue. Yin Yoga creates space for the cultivation of mindfulness, internal focus and surrender.




Yoga Tune Up® classes focus on eradicating pain, improving posture and enhancing performance by locating your body's blind spots that are catalysts for injury and discomfort. We use YTU® therapy balls and myofascial release techniques to roll out and release muscles and the surrounding connective tissue in an effort to calm the nervous system, reduce tension, eliminate pain, increase mobility, and bring balance back to the body.

Classes are concentrated to delve deep into specific areas of the body such as core, hips, back, neck and shoulders. These classes are ideal for anyone who wants to rejuvenate their body from stress and pain. Whether you sit at a desk or are an athlete experiencing fatigue, you're sure to feel the tune-up difference! The best thing about YTU® is the ability to educate yourself on how to heal your body and prevent injury.