Mandi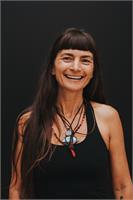 The yogic and spiritual pathway is one that started as a child for Mandi and one she has always returned to whenever she feels she has needed to find herself again. Through life experience and many forms of study Mandi has cultivated deep interest in spiritual growth and alternative healing, especially around trauma, addiction, and suffering.
She draws from her own life to offer a diverse, intuitive based Sacred 'mystyle' of yoga infused with spiritual teaching and healing. She teaches breath-focussed movement, encouraging students to let go of what holds them back and to become more mindful in every moment.
Mandi teaches yoga and meditation to all people - children, teenagers, adults, disabled, and the elderly. She utilises sound, smudging, crystals, oils, mantra, and meditation in her sessions. She has been teaching since 2012, is 800hr, Cert 4 trained, and holds independent qualifications in meditation.
Mandi instructs the following:
Hot Flow yoga is a dynamic sequence of postures that guide you consciously into your breath and out of your mind to lead you to a more authentic, powerful and content life. The routines are a vigorous, yet empathetic form of exercise that transforms the body, challenges the mind and allows the heart to unleash the true spirit within us all. Hot Flow is inspired by the ancient yogic teachings of Hatha Yoga but is also given in a common sense approach to teaching its postures to Western civilisation. The classes are a way for modern day people to be free of the aches and pains in their bodies, start to calm their mind and become happier and healthier people in today's stressful world.

The room is heated to 30 degrees and our team of trained teachers are committed to speaking to the hearts and minds of every student, taking them on a journey of self-discovery that builds muscular strength and endurance, improves functional flexibility and agility, while also improving cardiovascular activity and fat burning. Poses are held for 1 breath up to 1.5min each. The class moves dynamically for the first ¾ then, slows down for longer deep hip release towards the end.


This fun and addictive class is also blended with a modern day philosophy of how to live life authentically and consciously, both on, and off the mat - cultivating a healthy body, quiet mind, open hearth and vibrant spirit.




Guided Meditation

Why not give yourself permission to connect within and receive the benefits of meditating. Meditation is effective in short-term stress reduction and long-term health. There are so many physiological, psychological and spiritual benefits. Your heart rate and breathing slow down, your blood pressure normalises, your mind ages at a slower rate and your immune function improves, are just a few to mention. Experience relaxation and contentment within yourself.

Be taken on a journey of guided visualisation, raising your vibration through healing and sound. Each meditation is unique giving you an opportunity to expand into the metaphysical dimension if you allow.