Robbie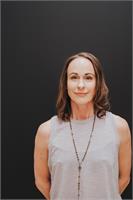 It was in the middle of a long hot summer that Robbie attended her first hot yoga class. It took a long time to get used to doing yoga in the heat but she found it to be a complete workout, a journey, and a life changer. Her health improved as she allowed the practice and her teachers to create a space for change, both physically and mentally.
Robbie attended a Bikram Yoga Teacher Training in 2013. Not wanting to stop the learning journey she went on to complete a 200 hour Vinyasa Teacher Training at Power Living and is working her way through the 500-hour pathway. In 2017 Robbie commenced a Cert IV in Matwork Pilates through Polestar Pilates Australia. She plans to continue in this direction with possibly a Diploma and courses on Reformer and Studio work.
If you had told Robbie 10 years ago that she would be a yoga teacher, own an incredible studio, and have this much lycra, she would have laughed until she cried.
Robbie instructs the following:
This dynamic class incorporates traditional mat pilates exercises, plus a revolutionary mix of high-intensity interval training (HIIT) and weight work to strengthen your core and tone your body.

Each class will follow a similar sequence but the order and focus will vary from class to class. The room is heated to 30 degrees, to maximise your workout.

It will be one of the best workouts you've had and will leave you feeling energised and inspired!




This 60 minute class includes all 26 postures and 2 breathing exercises included in the original 90 minute class. The class moves at a different pace, only some of the postures are performed twice. It stimulates the organs, glands and nerves, moving fresh oxygenated blood to 100% of the body, restoring all systems to a healthy working order. It is a complete, holistic workout doing more for your body than you ever imagined possible! The studio room is heated to 39C allowing the muscles to warm for deeper stretching, it thins the blood to clear the circulatory system, allows the body to eliminate toxins, increases heart rate for a better cardiovascular workout, and improves strength. It is a dynamic class that will encourage you to stay focused and connected to your breath.