Kanako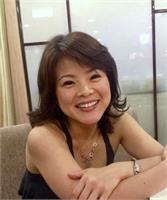 Kanako, originally from Japan, practiced a number of styles of yoga before she found Bikram. When she did however, it was love at first class. From there her passion and even obsession with the practice grew and she finds that yoga makes her a healthy, strong, better and positive person and yoga is now part of her life. Kanako feels truly humbled and grateful for the opportunity to share this with others.
With certifications in Bikram Yoga, Power Vinyasa and Yin Yoga, she teaches in a way that encourages students to share the positive energy, have fun and explore their maximum potential by trying the right way in the moment of stillness.
Before embarking on her first teacher training in September 2011, she was daunted by the idea of standing in front of a class, but she took inspiration from her many teachers and then her fellow trainees and she knows that anything is possible when it's done with love and passion. She now wants to inspire students through teaching and practicing together
Kanako instructs the following:
Flow yoga is a dynamic form of asana movement synchronising breath with movement, evolved from the original teachings of Hatha Vinyasa Yoga. It awakens strength, energy, cardiovascular activity and flexibility in a fun atmosphere, whilst sweating it out in a nice 32-34°C. The classes start dynamically with fluid movements and breathing, slowing towards the end into longer posture holds, allowing for a deep release. This fun and addictive class is also blended with a modern day philosophy of how to live life authentically and consciously, both on and off the mat, cultivating a healthy body, quiet mind, open heart and vibrant spirit.




Hot Flow yoga is a dynamic sequence of postures that guide you consciously into your breath and out of your mind to lead you to a more authentic, powerful and content life. The routines are a vigorous, yet empathetic form of exercise that transforms the body, challenges the mind and allows the heart to unleash the true spirit within us all. Hot Flow is inspired by the ancient yogic teachings of Hatha Yoga but is also given in a common sense approach to teaching its postures to Western civilisation. The classes are a way for modern day people to be free of the aches and pains in their bodies, start to calm their mind and become happier and healthier people in today's stressful world.

The room is heated to 30 degrees and our team of trained teachers are committed to speaking to the hearts and minds of every student, taking them on a journey of self-discovery that builds muscular strength and endurance, improves functional flexibility and agility, while also improving cardiovascular activity and fat burning. Poses are held for 1 breath up to 1.5min each. The class moves dynamically for the first ¾ then, slows down for longer deep hip release towards the end.


This fun and addictive class is also blended with a modern day philosophy of how to live life authentically and consciously, both on, and off the mat - cultivating a healthy body, quiet mind, open hearth and vibrant spirit.




Yoga Nidra, known as psychic sleep or sleep with awareness, is an ancient practice that is intended to induce full-body relaxation and a meditative state of consciousness. Guided meditation will take you on a journey of guided visualisation of varying themes and techniques each class. Meditation has many physiological, psychological and spiritual benefits. This is the perfect remedy to reduce tension and anxiety. Both styles will be a lead practice in which you're required to do nothing but rest and focus your mind. Anyone can practice Yoga Nidra and Guided Meditation so all levels of experience are welcome. This class is FREE for everybody. Book online or just turn up.




This 60 minute class includes all 26 postures and 2 breathing exercises included in the original 90 minute class. The class moves at a different pace, only some of the postures are performed twice. It stimulates the organs, glands and nerves, moving fresh oxygenated blood to 100% of the body, restoring all systems to a healthy working order. It is a complete, holistic workout doing more for your body than you ever imagined possible! The studio room is heated to 39C allowing the muscles to warm for deeper stretching, it thins the blood to clear the circulatory system, allows the body to eliminate toxins, increases heart rate for a better cardiovascular workout, and improves strength. It is a dynamic class that will encourage you to stay focused and connected to your breath.