Jo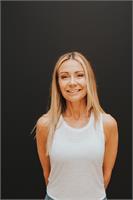 A desire for greater flexibility drew Jo, Yoga Tree Perth owner, to yoga in her early 20s. But it was after a hot yoga class she felt the magic. She left with a sense of accomplishment, calm, and energy she'd never felt before. Her fascination with this ancient science of yoga took off.
Jo was working as an accountant and her family was experiencing some challenging times. Both made Jo think about her life and what she could do with it. This put her on the path of a nine week teacher training in Hawaii in 2007. And she's been teaching ever since. Jo's gone on to complete a 200-hour Power Living Vinyasa training, plus an additional 200 hours in India and has completed her pilates training. Jo loves the combination of yoga and pilates and its ability to balance herself and her students. She continues to be inspired by her teachers but also her students.
The practice and process of yoga has been so transformative for her. Jo hopes to encourage her students to cultivate the same devotion, passion, and trust to allow the transformation within them.
Jo instructs the following:
These classes are seriously upbeat and incorporate traditional mat pilates exercises, plus a revolutionary mix of high-intensity interval training (HIIT) and weight work to strengthen your core and tone your body. Each class will follow a similar sequence but the order and focus will vary from class to class. Suitable for all fitness levels, these classes are high-energy and great fun thanks to a playlist of inspiring beats. Plus, you'll burn calories and detoxify your body as each class is performed in a thermo-controlled room at 32-34°C with 40% humidity. It will be one of the best workouts you've had and will leave you feeling energised and inspired!




This 60 minute class includes all 26 postures and 2 breathing exercises included in the original 90 minute class. The class moves at a different pace, only some of the postures are performed twice. It stimulates the organs, glands and nerves, moving fresh oxygenated blood to 100% of the body, restoring all systems to a healthy working order. It is a complete, holistic workout doing more for your body than you ever imagined possible! The studio room is heated to 39C allowing the muscles to warm for deeper stretching, it thins the blood to clear the circulatory system, allows the body to eliminate toxins, increases heart rate for a better cardiovascular workout, and improves strength. It is a dynamic class that will encourage you to stay focused and connected to your breath.




Flow yoga is a dynamic form of asana movement synchronising breath with movement, evolved from the original teachings of Hatha Vinyasa Yoga. It awakens strength, energy, cardiovascular activity and flexibility in a fun atmosphere, whilst sweating it out in a nice 32-34°C. The classes start dynamically with fluid movements and breathing, slowing towards the end into longer posture holds, allowing for a deep release. This fun and addictive class is also blended with a modern day philosophy of how to live life authentically and consciously, both on and off the mat, cultivating a healthy body, quiet mind, open heart and vibrant spirit.